122. WHY SINGAPORE TV IS DEAD…
Since late 2001, I have been immersed in many gigs in the Singapore TV/media industry. After 9 years busting butt on the ground, I have decided that this may the last year I want to be as involved in it and perhaps seek an alternative path.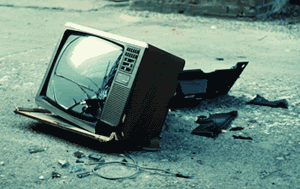 I realise that by writing this post I may endanger the future of my career but I believe in serving the greater good if only because I still have a drive for the art of creating (whatever's left of course) and churning out shows that entertain and are commercially viable as well, which in Singapore's case, seems to lean towards the latter mostly.
But I digress. Let's go back to what makes this chica more and more disillusioned about her career on a daily basis and here are the reasons why:
BUDGET (MONEY, MONEY, MONEY!):
Budgets have become paltry if not just darned insulting. What was once enough to do a decent half-hour drama or info-tainment show has been slashed by a third or in some cases by half! This results in a slew of other reasons why the media industry is not the place to seek glamour or fortune.
NO APPRECIATION FOR PRODUCERS/UNDERPAID PRODUCERS:
Producers in other countries and industries are the most respected and feared people on set. They are the ones responsible for hiring and firing talent, getting funds for the production and basically ensuring that the final product that is released meets industry standards. Alas, in Singapore, they are not. They are ignored, underpaid and certainly not respected for their hard work. There is no compensation here except for the producer's passion.
CLUELESS & MONEY-ORIENTED 'CAMERAMEN & CREW':
It seems like the only people making money in this industry are the cameramen. No doubt they are important to the production process but again, this brings me back to the above, producers should be paid the same rates as cameramen.
Secondly, DOPs working in this hectic industry lack passion. In fact, there's no pride in their work, although there are a few left standing that I still consider are crew that I still want to work with and hire, but mostly, they're not bothered about that great shot. They only care if they are getting paid overtime and when that becomes the focus, it sucks the morale of the director/producer or onset staff for the job because it just becomes that – a JOB.
Thirdly, for those who are doing dramas, well, they don't even bother reading the script or taking a look at the storyboard. I mean, what kind of crap is that? So you have a producer (who is already busy enough) wasting their time shooting an e-mail to a DOP with scripts and storyboards attached and then having them show up on set, asking the producer or director, "Eh, what is this scene about?"
Sorry but this clueless reaction irks the hell outta me when I'm on set because I pay you not to just shoot, but to discuss the shots prior and see what types of shots work for each scene, not come on set totally clueless about what to shoot, thereby wasting precious time onset explaining to the DOP what each scene requires. If this is the case, hey, give me the camera and I'll go shoot the thing myself instead of contending with shaky, overexposed, badly framed or cliched shots.
SHORT UNREALISTIC TURNAROUND TIMES:
The rule of thumb for highly successful and quality shows is simple: Time & Money.
However, in Singapore's unforgiving media industry, we seem to be running short of both. As it is, budgets are a joke and guess what? Time is, as well especially when concepts and budgets are approved 4 weeks in advance of the show's initial broadcast and contracts with various parties signed 3 weeks before. Yea, funny right? NOT! Because this is exactly what happens in this industry.
After that, it's a scramble to get shooting scripts written and approved, logistics arranged at the speed of lightning and  shoots and edits  done in record-breaking time to make it to air at the specified date and time. And this bad practise continues for the next 12 or 13 episodes of a season.
Then what happens at the end of it all? What comes out of the works is a badly written and shot show no one, not even the producers or staff that worked on it want to watch and they wonder why our shows are shite and that the industry is dying! Sheesh!
Does the phrase, shooting oneself in the foot mean anything here?
LOCAL PRODUCTION HOUSES:
As a person commissioning programmes to certain production houses, I find that many of them overwork and underpay their staff even though they're getting huge budgets. Lately, the ugly picture is that many of the owners of such places play a dirty game of squeezing everyone they hire to get a show out on-air and keep the rest of the money in a fixed security deposit or invested in a new condo and/or luxurious car.
Recent articles in the local papers have also mentioned the atrocious way in which freelance talents have been treated by these dodgy companies where people have gone unpaid for months or not insured onset.
This makes me very uncomfortable as a person helping to mete out these budgets and getting first-hand feedback from staff of how blatantly squeezed these poor people are and I wonder how far the greed for making money is on the part of these company owners because I sure do feel bad for the staff.  (Yea, sorry for having a streak of decency in me and a prickly conscience!)
Besides that, I've  also had many EP's from production houses explaining to me (or giving excuses really) why they don't want to re-shoot or spend more on graphics or audio mixes etc to make the show better even though the budgets are huge (as I work in cable). It makes me feel that I would rather not give jobs to local companies and instead do the job in-house where I can hire the team that I feel would give me their best.
Yes, sadly, I'm reaching the point of no return where I have lost all faith in the integrity and production abilities of  local production companies out to make a quick buck or two whilst compromising on the standards of their own works, barring only an exceptional few.
I have one advise for all those wanting to start production companies in the hopes of making it big – 1. you are not going to make pots of money, 2. Being in production is not about the glamour and 3. If you are not passionate, humble or qualified to do a show that wows your viewers or breaks new ground in television/film, don't even bother starting a company that might further kill the industry please.
You will definitely be doing the industry a huge favour if you refrain from entering it. Thanks!
CLICHED WORK:
From uninspired scripts,  bad acting/hosting, cliched shots and edits, many TV shows here can't offer up anything exciting or different to the viewer.
With the exception of TVCs and promos where producers and crew take time to research award-winning works from peers worldwide, many TV shows produced locally are dull, boring and poorly executed. Whether it's local dramas, docos, lifestyle and infotainment or travelogues, they all seem to lack a certain 'X-factor' when compared to the same shows being produced in other countries that carve their own styles and identity.
CENSORSHIP:
This is a very sensitive issue on the tiny island. What is OK to one person could be darn right offensive to another but this is another reason why our shows are shite and not worthy of travelling anywhere outside Singapore except maybe to Batam, JB or Astro's Kids Channel IQ. (OK, OK, maybe NTV7 or TV-Tigaaaaaaa)
This is also the reason why we have to contend with Episode 1,255 of Phua "O god, it's not funny anymore" Achoo Kang.
Our fear of showing what's real about Singapore or dealing with sensitive issues in documentaries or films is costing us a lot. It's costing us talent that decide to quit the industry early because there is no long-term development or support in terms of subjects filmakers/TV producers are allowed to portray.
It's costing us awards and world-recognition and the development of the industry as a whole when obscure filmakers from Eastern Europe, Afghanistan and Iran can release gripping, emotional or entertaining work that wins international acclaim.
Meanwhile we sit here, twiddling our thumbs wondering why our Wong Kar Wai wannabe films on hawker centre uncles and aunties or sad 'tai-tai' films don't seem to make a dent anywhere except Asia.
Censorship has forced producers here to stick with safe, banal topics that don't affect or grip audiences.
To top it off, 'safe' is not exactly what people want to see these days in an age where the Internet has broken through so many cultural boundaries, opening our noggins to anything and everything that's out there.
Furthermore, censorship is childish and it stems from fear. Fear does not allow us to expand – it only causes us to recede. It will not cause us to grow or be rewarded, because only courage allows us to do that.
So until that day of freedom comes and Singapore is ready to face its own demons, I'll take a few steps back from the industry.
NO PROPER GOVERNMENT SUPPORT
Unlike the UK Film Council which supports many independent films, both of long-form and short form for both cinema and television and whose efforts have gone on to win Academy awards, Emmies and the BAFTAs, our film commission does not even have one internationally recognised award for anything original unless it's the Bangkok Film Fest, Pusan or maybe an honorary award at Cannes once every decade?
This is because the people at the top do not know what is needed to revolutionize the flailing industry. They are so out of touch with what's really needed to jolt the industry into a thriving one.
They are also bogged down by the Asian mentality that one must not challenge the ideas or visions of someone sitting at the top. There is no one with ground level experience to fight the powers or expand on their thinking unless it's some unbelievably highly paid consultant from the US or the UK who has been specially flown down to our shores to suddenly miraculously open the minds of these high-ranking incumbents, at the taxpayer's expense.
And no amount of money or seminars can help us unless we cleanse the industry of incumbents who really do not know what media is about. It is also useless to call upon the expertise of consultants from developed countries whose intrinsic cultures are based on democracy, freedom of speech and thought that allows for such highly sophisticated modes of creativity.
We are unfortunately not like these countries whom we secretly want to be and out rightly fail to achieve despite our economic success – because of censorship and our Asian culture which emphasizes on Confucian principles and where freedom of speech and thought are frowned upon.
In this, we are still in Third World territory. We are very much behind on all counts because the way we have been raised by the government is through fear and breaking new ground, like I mentioned earlier, requires courage and we don't have that really, which is why we end up copying what the media does in all these other developed countries.
LACK OF MENTORING:
Singapore is so awful at this, it should be charged in a court of law because there seems to be a huge void when it comes to the development and sustaining of talent in the media as new generations graduate from tertiary institutions and enter the industry.
Forever and a day now, it's been Jack Neo, Eric Khoo, Royston and Wee Lilin and never anybody else. Doesn't that strike you as odd?
These noted 'godfathers' of the Singapore media industry don't seem to be grooming others to be the next generation of savvy talents that will take Singapore to the next level of television, gaming or film entertainment.
Instead, you get this weird feeling that these guys  are in and of themselves in an exclusive circle, afraid of being usurped by a new batch of players, which I suspect, is probably the case.
Mentoring doesn't only keep talent within the industry; it allows talent to break new ground as ideas are exchanged not only in terms of content but also technology.
In Hollywood, see how the big guns are always developing technical expertise and sharing content. From producers like Jerry Bruckheimer and Steven Spielberg, collaborating with Peter Jackson (who also develops and supports new talent), JJ Abrams, James Cameron, Darren Aronofsky and George Lucas, everyone over there is sharing and exchanging ideas because they know it keeps the industry moving to the next levels and keeps it vibrant and exciting.
The industry is teeming with new talent where everyone gets so good TOGETHER that when something is produced, it wows the world.
But o nooooo, not here folks. Over here we're too stuck in our selfish, fear-driven mentality that sharing your knowledge with someone can only mean your demise.
Which is stupid because if you were good, you wouldn't even be bothered about your career being sabotaged because no matter what, as a unique talent, people would still come to you to take up their next project.
Which begs my next question – Are we good enough?
Should the media industry take a few huge steps backwards and try to see what really has gone wrong with it? I 've gotta respond with a big resounding 'Yes!'.
I also say yes to the fact that it has to face its demons and clean up its dodgy image because we can boast to the world that Singapore is a world-class media hub till we turn blue in the face, but the facts on the ground have proved otherwise making us just as good as hot air blowing over Timbaktu in the summer.
It's just not a pretty picture and to be honest, hot air does kinda makes you feel flustered and bothered.
Posted on May 28, 2011, in Career, Entertainment (Music/TV/Films), Job, Personal, Professional, TV/Film Production and tagged Singapore Media, Singapore Television, Singapore TV, Television in Singapore, TV in Singapore. Bookmark the permalink. 122 Comments.